A Guide to Getting Help in The Lord of the Rings Online
We work hard to help when you run into a technical, website, or other issue inside of the game, and this guide will walk you through the process of figuring out where to go and what to do when you run into a problem. We have made a change to the way submitting a ticket in-game looks and operates, and this guide will get you the information you need. 
To get help with your issue visit help.standingstonegames.com
Access Help from Inside of the Game:
If you are inside of the game, pressing the Escape key will open the main menu UI. Select the Help tab to pop up an in-game UI where you will be able to submit your ticket or bug report and more. Selecting your language opens a web page where you will submit your ticket.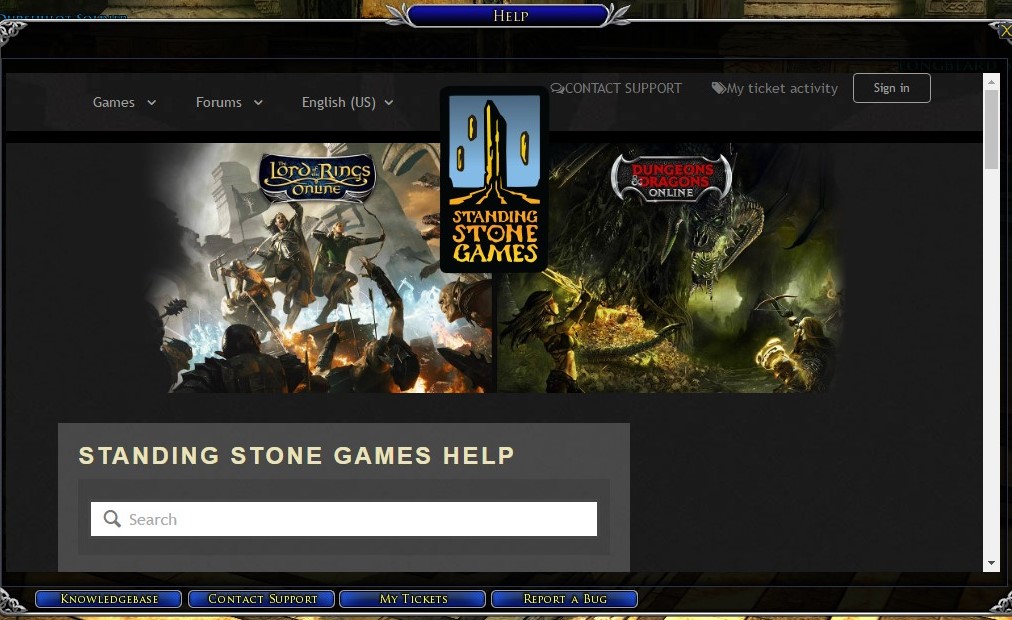 Knowledgebase opens the main article support section.
Contact Support sends you to a window to submit a ticket.
My Tickets lets you track your submitted tickets.
Report a Bug opens a section of help.standingstonegames.com where players can specifically send in bug reports. Note that we do not typically respond to bug reports we receive, but every report is reviewed by our teams.
Submitting a Ticket:
When you first go to help.standingstonegames.com, you will be presented with a series of frequently accessed Help pages that solve many of the most common questions asked to Customer Service. Once you've clicked through an article or done a search of our Help system, you will see the button "Contact Support", which is the link you will use to submit a ticket to Customer Support.
Submitting a ticket is as easy as selecting from a list of responses in a drop-down contextual menu through the ticket filing system. Make sure to include all relevant information, especially information about your character, server, and forum display name. if applicable. When you've filled out the ticket, submit it! You will receive an email in your inbox confirming your ticket has been submitted. You can reply to that ticket to provide further information or to respond to Customer Service.
Get Help from Outside of the Game:
Submitting a ticket from outside of the game using a web browser is virtually the same as submitting a ticket from inside of the game. Anything you'd need help with, whether it be a purchase issue or character-specific issue inside of the game, can be submitted either inside or outside of the game. Feel free to bookmark help.standingstonegames.com!
Your Standing Stone Games Help Account:
NOTE: When you first submit a ticket to us through our in-game Help system, you will be asked to create a Help account. This is NOT the same as your game account and is used by you to track the status of your tickets. Make sure the email address and other information provided is accurate and accessible by you! In the future, if you wish to reference your solved tickets or see the status of current tickets, you can do so by clicking My Ticket Activity after logging in through help.standingstonegames.com.
Creating your account in Standing Stone Games Help Account:
· At the top of help.standingstonegames.com, click on the 'Sign in' icon at the top of the page.
· On the log in window, look for the text 'New to Standing Stone Games Help?' and click on the 'Sign up' link
· Enter your contact information, then click 'Sign up'.
· You'll be sent an email with a verification link you need to click. Clicking on the link will bring you back to the help.standingstonegames.com website, where you will be asked to set up a password.
· Once your password has been created, you can navigate throughout the Help Center and submit a request for assistance.
That's it! You've successfully signed up and created a Standing Stone Games Help Account! Note that this account is separate from your Game Account. Creating a Standing Stone Games Help Account is subject to our Terms of Service and Privacy Policy.
When to use MyAccount or the in-game Store:
As mentioned, the account you create for Standing Stone Games Help is NOT the same as the game account you create(d) to log into the game.
Myaccount.standingstonegames.com remains the home for updating your game account information. Make sure your information is up to date! Use myaccount.standingstonegames.com to update your first or last name, password, email address, date of birth, mailing address, and to opt into our email newsletters. Use the in-game Store to access and update your payment information and to subscribe or unsubscribe from your VIP subscription.