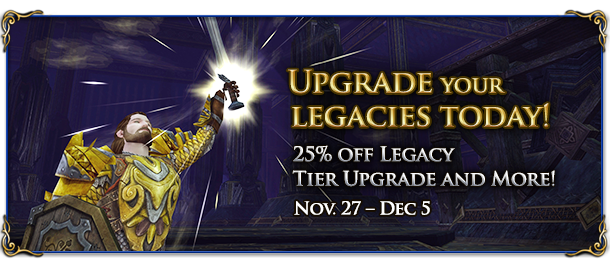 Also: Steed of the Rune-Keeper, Steed of the Captain, & Steed of the Iron Hills
Limited Time!
Steed of the Jester is Back!
Nov. 22nd – Dec. 5th
50% off Quad Pack
(does not include Helms Deep)
Nov 27th – Dec 3rd
Nov. 27th – Dec 5th
Random Relic Pack x1
Use Coupon Code
RRP85
2
/Account
Click
here
for the LOTRO Store Coupon Guide
Legendary Slot Unlock
25% Off
295
221
Character → Character Upgrades → Legendary Slots
50+
Legendary Slot Unlock Unlock an additional Legendary Item Slot in your Legendary Item panel! 4 Unlocks available! Once an item is slotted, you can then further level up and upgrade your Legendary Items by using Legendary Tier Upgrades, Legacies and more from the LOTRO Store!
Legacy Tier Upgrades
25% Off
295
221
Legendary Items → Scrolls
50+
Legacy Tier Upgrades Get greater bonuses! Upgrade the Tier of any Legacy on a Legendary Item with this scroll.
+5,000 Enhanced Reputation Supply
25% Off
250-1000
188-750
Buffs & Services → Advancement
All
+5,000 Enhanced Reputation Supply
Gain a bonus to all earned faction reputation until a total of 5,000 bonus reputation has been added. This bonus does not have a time limit, and only expires when the 5,000 bonus reputation points have been depleted.
This discount is only available through the in-game store and does not apply to purchases made using mithril.
---
Reminder: New sales start each Thursday evening in the LOTRO Store!