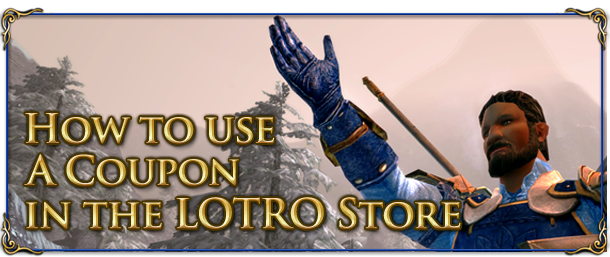 LOTRO Store Coupons grant you the store items you crave! Redeem coupon codes to take advantage of the free samples we offer and get discounts on store items, and even Turbine Point bundles!
We will always be clear about any restrictions associated with a coupon code we provide.
  - Some can be used multiple times and others can be used only once.
How do I use redeem a "free sample" or receive a discount on an item with a coupon code?
With the new LOTRO Store, redeeming a free sample has become even easier. Simply open the Store, and click 'Redeem Code' button at the top of window. When prompted on the next screen, just enter the Free Sample Coupon into the field, and click 'Apply'. The item will be automatically granted to your current character! Please note that coupon codes are now case sensitive. Please be sure to enter the coupon code exactly as it appears on the LOTRO Store Sales page.
FAQ:
Why is my coupon code not being accepted?
If you are seeing the error message "The code you entered is not valid", your coupon code may have expired, it may have reached its maximum number of uses, or you may not have met the requirements. You should always double check the coupon code's restrictions if you are having redemption issues.